Prioritise your IT strategy based on business goals
Ensure that your IT projects deliver maximum results by strategising from the top down, and weighting the value of projects against an objective, measurable scale.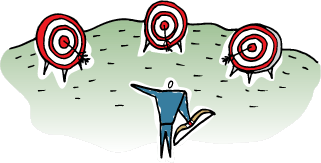 IT projects often seem to place their own internal strategy first, instead of considering the overall goals and needs of your business. How can you escape this trap of strategising in reverse and learn to establish clear and relevant priorities in your business?



Creating a chain of functional strategies

First and foremost, it's important to strategise in the right order. That means beginning with the overall goals of your business and working down, one step at a time, toward IT. In a healthy company that is managed in the right order, business strategy naturally informs product strategy. Product strategy creates a need that directs IT strategy. In turn, IT strategy drives IT projects.

Following this chain of strategies helps create project consequences that actively support your company's goals and hit the right targets. But how can you determine which projects are the most significant and will yield the greatest results?



How does your IT project contribute?

When you boil it down to the bottom line, there are four drivers that determine how your project goals align with and support your overall business strategy:


Cost effectiveness: Will your project reduce expenses or otherwise cut business costs?
Income potential: Does this project have the capacity to grow your customer base, increase total revenue, or create new revenue streams?
Big-picture strategy: How does this IT project help to position your company in the marketplace or become more competitive within your industry?
Security and compliance: Does this IT initiative support greater security or provide better legal or regulatory protection?

These four considerations are the most vital factors in determining the value of your project to your entire organisation, and may be considered on a long-term or short-term basis (or both).



Prioritisation models

Each of the above four drivers can include a host of different factors, and should be broken down and discussed with your business leaders and various departments. For example, a close look at the cost-effectiveness of a new IT project might include customer acquisitions and retention, customer service, efficiency gains within your office, and other financial savings.

In one prioritisation model, businesses break down each of the four main drivers into smaller categories like these, and then ask executives and leaders to rank them on a Likert scale from 1 to 10. Overall project scores immediately prioritise projects on a very simple model that is easy to conduct and even easier to interpret.

As an alternate method of interpreting these rankings, try using a weighting system to lever results accurately. You'll weigh the original four factors, and then consider the rankings and votes accordingly.

For example, your company might be considering three different IT projects. If you're under some financial pressure, you're most likely very interested in cutting your expenses and earning more money. Accordingly, as you consider your rankings, you might decide to weigh the drivers as follows:


Cost effectiveness: 40%
Income potential: 30%
Big-picture strategy: 15%
Security and compliance: 15%

Within these four areas, you may also choose to weigh the categories your departments presented earlier.



Ensuring objectivity

This system isn't flawless, of course. Any of the executives, managers, or other professionals you include could rank items based on their own subjective interpretations. How, then, can you maintain objectivity in this model? The easiest way is to include clear explanations of the meaning of each number from 1 to 10 as it refers to each category.

For instance, cost effectiveness might include a variable for the amount of time spent in customer service phone calls. Your scale might be 1 = 0 to 10 seconds, 2 = 10 to 30 seconds, 3 = 30 to 45 seconds, and so forth. The more precise you are in delineating the values for each category, the more objective and useful your results will ultimately be.



Equal footing and fairness

Despite these steps, people are only human, and some bias will inevitably sneak into the equation. You can manage any potential manipulation of the results by creating clear project criterion and ensuring that they are compared on equal footing. It's also important to score only those projects that require it. If you have only one viable project that clearly stands out of the crowd, there may be no need to use this comparison model. By the same token, it's fruitless to rank and calculate the value of an unnecessary maintenance project or one that has already been eliminated by management.

This model is designed to provide businesses with tools to save time, reveal value (or lack thereof), and enhance the process by which you select IT projects worth pursuing. If used correctly, it can be an excellent way to align your IT direction with the strategy and mandates of your company, while delivering real ROI and results.

How can we help you? Email us at

.